(EN below)
Rugpjūčio – lapkričio mėnesiais Kauno arkikatedroje bazilikoje (Vilniaus g. 1, Kaunas) ir šv. Pranciškaus Ksavero (jėzuitų bažnyčioje, Rotušės a. 8, Kaunas) vyks tarptautinis festivalis "Musica sacra".
Festivalyje dalyvaus žymūs atlikėjai iš Prancūzijos, Vokietijos, Lenkijos, Lietuvos ir, žinoma, šiemet didžioji dalis – profesionalūs atlikėjai iš Ukrainos. Koncertų programose pasirodys dainininkai bei instrumentalistai. Atlikėjai iš Ukrainos pristatys klausytojams mažai girdimus, bet įstabaus grožio Ukrainos kompozitorių kūrinius.
Festivalyje dalyvaus ir du vargonų virtuozai iš Prancūzijos. Šiais metais sukanka 200 metų, kai gimė didysis prancūzų vargonų romantinės muzikos kūrėjas Cesar Franck'as. Jau beveik du šimtmečius po bažnyčių skliautais skamba didingieji Cesar Franck'o choralai, "Didžioji simfoninė pjesė" bei kiti kūriniai vargonams. Bus įdomu išgirsti prancūzų vargonininkų interpretacijas, atliekant jų tėvynainio, didžiojo maestro Cesario Franck'o kūrinius.
Dėkojame rėmėjams: Lietuvos kultūros taryba ir "Bernelių užeiga"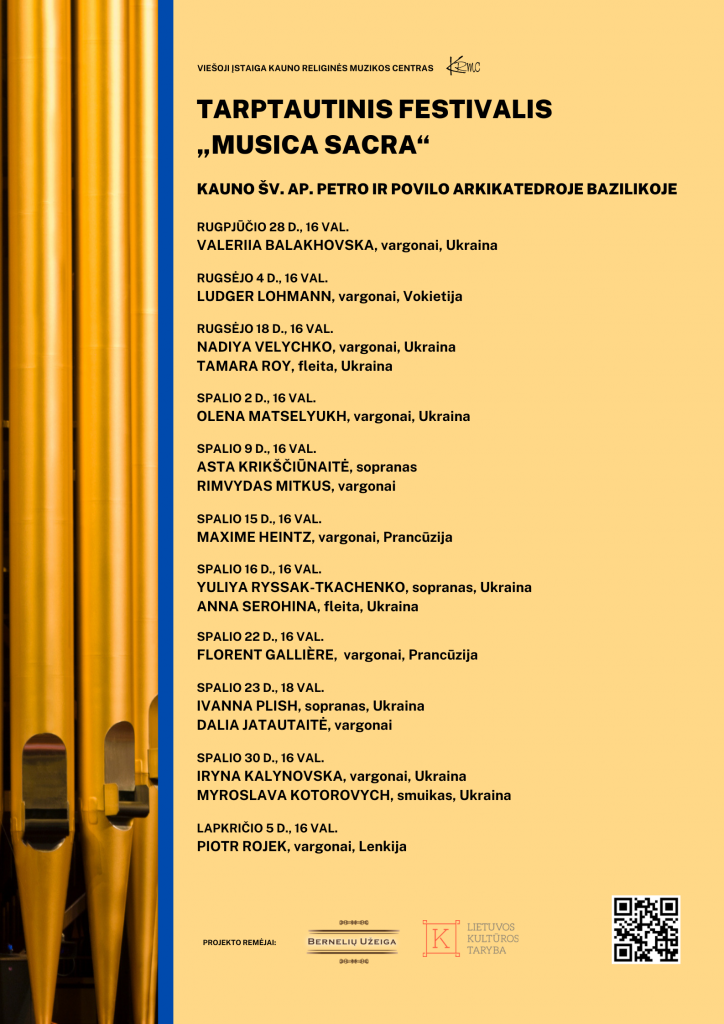 ---
During August – November months international festival "Musica sacra" will take place at Kaunas Cathedral (Kauno Arkikatedra bazilika, Vilniaus g. 1, Kaunas) and the Church of St. Francis Xavier (Šv. Pranciškaus Ksavero (jėzuitų) bažnyčia, Rotušės a. 8, Kaunas).
The festival will feature renowned performers from France, Germany, Poland, Lithuania, and, of course, most of the participants this year will be professional musicians from Ukraine.
Vocalists and instrumentalists will perform during the concerts. The Ukrainian artists will play compositions by Ukrainian composers that are rarely heard but are of exceptional quality.
Two organ virtuosos from France will also take part in the festival. This year marks the 200th anniversary of the birth of Cesar Franck, the great French composer of Romantic organ music. Cesar Franck's magnificent chorales, "Grande Pièce Symphonique" and other pieces for organ have been heard under church vaults for over two centuries. It will be fascinating to hear French organists perform compositions by their countryman, the great maestro Cesar Franck.
Thank you to our sponsors: Lithuanian Council for Culture and "Berneliu užeiga"
Dates of the concerts:
Kaunas Cathedral (Kauno Arkikatedra bazilika, Vilniaus g. 1, Kaunas)
21 August, 4 pm
KAROLINA JUODELYTĖ, organ
28 August, 4 pm
VALERIIA BALAKHOVSKA, organ, Ukraine
4 September, 4 pm
LUDGER LOHMANN, organ, Germany
11 September, 4 pm
EGLĖ STUNDŽIAITĖ, soprano
DALIA JATAUTAITĖ, organ
18 September, 4 pm
NADIYA VELYCHKO, organ, Ukraine
TAMARA ROY, flute, Ukraine
9 October, 4 pm
OLENA MATSELYUKH, organ, Ukraine
16 October, 4 pm
MAXIME HEINTZ, organ, France
23 October, 4 pm.
VIRGILE MONIN, organ, France
30 October, 4 pm.
IRYNA KALYNOVSKA, organ, Ukraine
MYOSLAVA KOTOROVYCH, violin, Ukraine
5 November, 4 pm.
PIOTR ROJEK, organ, Poland
Church of St. Francis Xavier (Šv. Pranciškaus Ksavero (jėzuitų) bažnyčia, Rotušės a. 8, Kaunas)
16 October, 6 pm
YULIYA RYSSAK-TKACHENKO, soprano, Ukraine
ANNA SEROHINA, flute, Ukraine
23 October, 6 pm.
IVANNA PLISH, soprano, Ukraine
DALIA JATAUTAITĖ, organ